Holy Guacamole Salad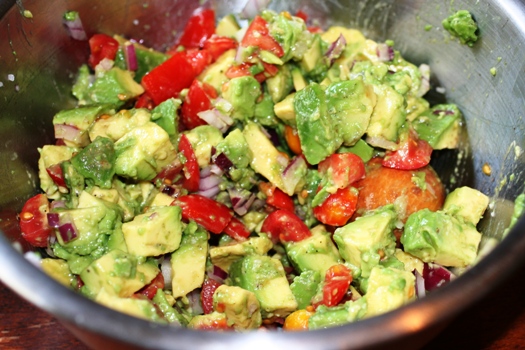 What You Shall Need:
1 pint grape tomatoes, halved.
3 cucumbers
1 yellow or orange pepper
1/2 red onion
3 large avocados
1 jalapeno pepper
1 small clove of garlic
1 handful fresh cilantro
For the Dressing:
zest from 1 lime
1/3 cup fresh lime juice ( about 3-4 limes)
1/4 cup olive oil
1 tsp sea salt
1/2 tsp ground black pepper
1/4 tsp cayenne pepper
What You Shall Do:
1. Prepare the veggies and add to a large mixing bowl:
-Halve the grape tomatoes
-Chop cucumbers and bell pepper into small chunks. Dice onion.
-Cut avocados in half, remove pit and scoop out the inside. Chop into whatever size chunks you wish.
-Chop garlic and jalapeno very finely. To control spiciness, remove the seeds.
-Chop up the cilantro, doesn't need to be fine.
2. Mix all the veggies together and prepare the dressing.
3. Zest one lime into the bowl.
4. In a measuring cup, combine the fresh lime juice, olive oil, salt, black pepper and cayenne pepper. Mix and pour over the veggies. Toss to coat.